The Korea Open Super Series triumph is what the bread and butter of sporting greatness is going to look like in coming years: not every title will be uplifting and emotionally charged, some will just upturn the last result. PV Sindhu kept a surprisingly detached countenance soon after she beat Japanese rival Nozomi Okuhara 22-20, 11-21, 21-18 in what was a rematch of last month's World Championship final. Sindhu proved a point but calmly refrained from rubbing it in the face of both her opponent as well as critics who were wondering about two second-place, silver-medal finishes — at the Olympics and the Worlds — in as many years.
Eighty three minutes of physically and mentally exhausting exchanges against an accomplished Japanese, the reigning World Champion, might have a lot to do with her eventual equanimity and visible lack of crowd-pleasing roaring antics that follow exultant victories. But coaches from the team are pointing at evidence of increased maturity in the 22-year-old who learnt some very tough lessons in the three weeks since the World Championship loss, and came back swiftly to reassert her dominance. That she is capable of doing this against any player currently on the circuit, means India is looking at a potential world beater as has never been seen over a long time in Indian sport.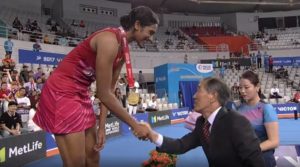 Three Super Series — India, China and Korea — three World Championship medals, an Olympic silver and a host of other podiums means Sindhu has logged five years of headline making now. The Olympic-obsessed flyby cheering squad from Rio on social media might have moved onto other drum-beating causes and personalities. And new converts will get added next year when the Asian Games and the Commonwealth Games throw up fresh names to devour, but PV Sindhu has nicely settled into the topmost echelon of an international sport, raising immense possibilities of global dominance. In Korea, she proved she was chipping away at whatever flaws that held her back from becoming India's rare but bona fide world beater.
Source~IE