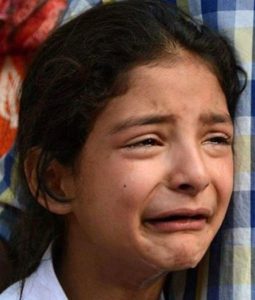 'Zohra, mother earth can't bear weight of your pain,' says Gautam Gambhir to daughter of Kashmir martyr.
NEW DELHI: Cricketer Gautam Gambhir told a grief-stricken Kashmiri girl Zohra that he may not be able to bring her martyred father back but he can help her "live her dreams" by "supporting her education for a lifetime".
Zohra,I can't put u 2 sleep wid a lullaby but I'll help u 2 wake up 2 live ur dreams. Will support ur education 4 lifetime #daughterofIndia
Zohra is the daughter of the late Abdul Rashid, assistant sub-inspector (ASI), Jammu and Kashmir Police, who was killed in the line of duty late last month.
Photographs of his young daughter sobbing at her father's funeral broke hearts all over the country, prompting the deputy inspector general of police (DIG), South Kashmir, to write her a heartfelt letter on Facebook which said "your tears have shaken many hearts".
Gambhir's tweets today, in which he said he would support Zohra's education, echoed the DIG's sentiments.
"Zohra, please don't let those tears fall as I doubt even Mother Earth can take the weight of your pain. Salutes to your martyred dad ASI, Abdul Rashid," wrote Gambhir. He added that he least he could do make it worthwhile for her to wake up every day was support her dreams.
For many months now, Gambhir has been tweeting a lot about the sacrifices made by India's armed forces and has also pledged monetary help to martyrs' families.