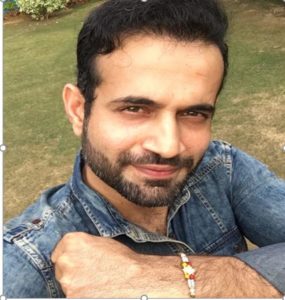 Irfan Pathan ran into trouble with religious internet trolls for celebrating Raksha Bandhan.
All he did was posting a picture of himself showing Rakhi on his wrist.
But much to the anguish of the all-rounder  he was under attack once again.
On the picture posted across three platforms, as many as 1,670 comments were posted over the next 19 hours on Facebook, 80 on Twitter and a little over 300 on Instagram.
A Facebook page account in the name of Zakir Khan read, "Haram Af." (sic)
"If You live in a country where Other Relagion is established then be good with them but dont follow them," (sic) wrote a person named SM Ulfathibne Kabir Shuvo.
"Ye Islam m sahi nhi h Pathan bhai (this is not right in Islam)," wrote Wasim Raza.
A person named Jal Para wrote, "Be a Muslim bro..ur father did not tell u about Bida't.u should know." He added, "It's not about humanity, I am just telling this Rakhi just does not belong to us."
"Irfan Ka to Islam se Koi Lena Dena Nahi hai," wrote a person named Mohammad Sadre Alam.
However, the cricketer chose Instagram to have his say, and conveyed that people should stop this 'nonsense'."using foul language. Talking each other rudely on basis of religion. It shows nothing but ur own learning which some ppl have gathered in their mind over the years.stop this nonsense of putting each other down," (sic) wrote Irfan.