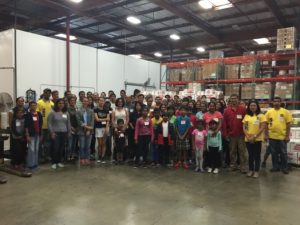 Gujarat and Rajasthan are reeling under massive floods, the latest states in the country to face monsoon fury in India where such natural disasters are common through the rainy season.
Hundreds of people are marooned in several regions of Gujarat. The state is battling one of the worst floods in recent history. Several districts are submerged leaving a trail of death and destruction.  The toll in the devastating floods has reached nearly 120 dead.  Tens of thousands have been evacuated. Thousands of families are still stranded and awaiting help across the state.
Banaskantha, Patan and Sabarkantha districts are worst affected and have received heavy rainfall.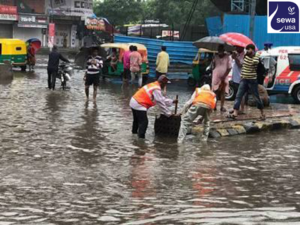 The rain has paralyzed infrastructure. Tens of thousands of cotton and millet farmers [3] have been affected. Ahmedabad International Airport had to divert many flights due to flooded runways. More than 10,000 people were rescued in Ahmedabad alone. The rains have brought the life in Surat, Ahmedabad, Idar, and Valsad to a virtual halt.
The floods  due to heavy rains and depression in the southeast, which moved from Madhya Pradesh and Uttar Pradesh, have played havoc with two million people directly affected; 129 dead; 800 villages inundated; 200 villages without power; 17,000 rescued; 20,000 treated medically; 70,000 migrated; 112,000 evacuated to safety; and five national highways, 20 state highways, and 945 roads closed to vehicular traffic. See Photos 1 – 4. Currently, a cyclonic circulation has formed on North Gujarat and South Rajasthan, and rains are continuing.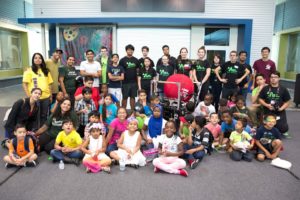 Sewa is on the ground running rescue and relief operations!
250 Sewa volunteers are engaged more than 70 villages  in relief operations in Banaskantha and Patan districts of Gujarat, a large part of which continues to reel under floods. Sewa volunteers distributed:
1.6 lakh food packets, medicine and water bottles distributed
Started help centers in Radhanpur and Deesa (in Banaskantha)
Sewa volunteers have helped alert people living in low-lying areas affected due to release of water from Sipu and Dantiwada dams, so they can shift along with their valuables and cattle
Volunteers are helping to provide shelter to thousands of people in private hospitals and temples