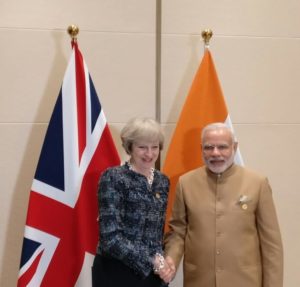 Author: Manoj Ladwa
Just as David Cameron had misread the public mood in Britain when he called for the Brexit vote, Theresa May's decision to go back to the people a full three years before her term as Her Majesty's First Minister was to expire has also proved to be a grave political miscalculation.
But though her gamble has backfired and in spite of the short-term uncertainty it has created in its wake, I am confident that the political dust will soon settle and government will get back down to governing. And do so quickly. Theresa May has been quick to announce that she will run a minority government propped by the ideologically allied Ulster Unionists.
Taking a slightly longer term view, I think the hung verdict – and consequent reduced political clout of the ruling party – may well prove to be the cloud that has a large, but currently hidden, silver lining. For one thing, we can assume that those who were all too ready to drive a so-called hard Brexit option, under which the UK would have left the European Union without a deal to secure access for its goods and personnel in the EU, would be somewhat tempered.
May 2.0 would be correct also to interpret the fractured mandate as a message to continue to press for a more globally engaged Britain rather than a mandate to aggressively pull up the drawbridge on foreign business and people. This provides a services driven export economy like India the opportunity to press its case for a fair and sensible immigration regime recognising the immense value Indian talent can bring to the UK economy.
This will be good news for the 800-odd Indian companies that have established their businesses in the UK not only to tap its large and prosperous market but also to serve as a bridge-head to the economic colossus that lies across the English Channel.
A hard Brexit, on the other hand, would have put their investments – made on the basis of assumed easy access to the EU – at risk. That is a fallout neither the UK nor Indian investors would have enjoyed, and possibly leading to a longer term strain in relations. Indian companies are, collectively, the third-largest investor group in the UK and among the largest employers in that country.
That apart, this vote could actually (and contrary to some belief) give a fillip to closer UK-India economic ties. There is a broad bi-partisan political consensus in the UK on the importance of India and trading relations with New Delhi. It is clear that UK ministers will need to work harder and be sharper in helping to get deals done and issues resolved.
I hope this hung verdict provides an impetus for both governments to focus on the initiatives that are already on the anvil.
To start with, Prime Ministers May and Modi should urgently review the work of the Working Group that has been set up to explore deeper trade and investment ties. So far there has been scant information.
Then, the two governments can leverage the goodwill generated by the high profile UK-India Year of Culture to promote further and closer people to people ties to celebrate all that unites the two great nations. Much can be done through this initiative to boost the mood and confidence between people.
There is also huge scope for cooperation between the UK and India on re-imagining the Commonwealth as a body that encourages freer trade and on facilitating greater market access between member states. The UK will next April host heads of government for the Commonwealth's bi-annual summit. There is huge opportunity for India to be re-engaged and encouraged to take a central leadership role of this otherwise traditionally perceived sleepy post-colonial club.
Terrorism is a scourge that is affecting both India and the UK (and indeed, large parts of the world). Now that the Manchester and London terror attacks have brought this monster to British shores three times in quick succession, there is all the more urgency for the two sides to join forces to fight this danger with redoubled vigour.
And finally, US President Donald Trump's decision to pull out of the Paris Climate Pact makes it imperative for countries like the UK and India to take the lead role, along with countries like France and Germany in ensuring that we leave the world a better place for future generations.
In the light of the above, I don't think the political earthquake in the UK will result in too much lasting damage either in Britain or in India. If anything, it does provide an opportunity to push ahead with the huge list of unfinished business. In fact it's a opportunity to drive more focus into the bilateral relationship, not less as some may be fearing.
Manoj Ladwa is the founder of India Inc. and chief executive of MLS Chase Group @manojladwa