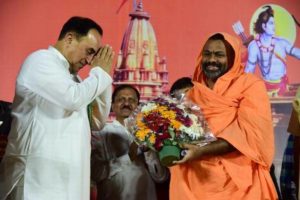 Hyderabad: BJP leader Subramanian Swamy said on Sunday that Muslim leaders should understand that a masjid to perform namaz can be built anywhere, but a temple is one where God lives from the time He is installed there.
"For Muslims, it is a matter of property. But, for Hindus it is a question of puja (worship) to the God," he compared.
He vowed to settle the dispute in the court within four months, by Diwali, once the court starts hearing arguments in July.
"Mandir construction will begin in 2018," he declared. He said new advocate general has been appointed by the Yogi Aditya Nath government and the case would move fast.
Subramanian Swamy was addressing a public meeting under the aegis of Virat Hindustan Sangam in Hyderabad on Sunday evening. This is the fifth meeting he was addressing on Ayodhya issue.
Swamy Paripoornanda of Sree Peetham said Rama Rajyam is possible only when Ram Mandir is built. He said UP Chief Minister Aditya Nath can settle in five minutes, if out of the court settlement is imminent.
He announced that Ram Mandir would be built in 2018 and no Muslim would object to it.