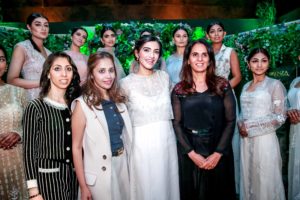 DIVAlicious London hosted renowned Indian designer Anita Dongre in exclusive soiree with A List Bollywood muse, presented by Dubai based multi-brand retail store The Rack – by Kachins. 
UK and India celebrate 70 years of Cultural partnerships expanding to arts, fashion, and science.
 After amassing cult popularity the world over in destinations such as the UAE, India, Kenya, Singapore, Sri Lanka, South Africa, Hong Kong and Indonesia, London played host to a unique, luxury boutique pop-up exhibition – 'DIVAlicious 2017' – on Saturday 25th and Sunday 26thMarch 2017 at The May Fair Hotel, London.
Presented by DIVAlicious, a unique mobile fashion concept brand launched in Dubai in 2011 to popularise Indian fashion and design globally, and the international business and communications consultancy Sterling Media, in association with one of the leading U.A.E property development companies Danube Properties, DIVAlicious London aimed to close a vital gap in the market by introducing to UK shoppers both affordable and luxury designer apparel. The event was supported by Sterling Realty, a boutique luxury property firm, specialising in the finance, sale, investment, development of residential and commercial properties in the UK and internationally.
International film and fashion icon Sonam Kapoor graced the event as a guest of DIVAlicious and Sterling Realty.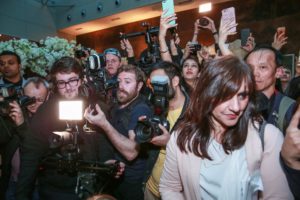 On the by-lines of the exhibition, DIVAlicious London's partner The Rack – by Kachins presented renowned celebrity fashion designer Anita Dongre. Hot off the ramp of India's Lakme Fashion Week's Grand Finale, Anita Dongre has been at the forefront of fashion for over 20 years, having created one of the most successful fashion houses in India. A metaphor for supreme craftsmanship, Anita Dongre's designs showcase Indian aesthetics in a contemporary language.  Inspired by Rajasthan and India's rich craft tradition, her handcrafted bridal gotapatti lehengas and handwoven heritage benarasi creations are coveted by brides across the world. Anita Dongre's commitment to revive, sustain and empower the Indian crafts and textiles led her to launch Grassroot, a sustainable and eco-conscious luxury prêt label.
Anita Dongre's prominent clientele include an array of Bollywood celebrities such as singer/actress Priyanka Chopra (ABC's Quantico, Baywatch), L'Oreal ambassador Sonam Kapoor, Shilpa Shetty, Kareena Kapoor, Alia Bhatt, Anushka Sharma, to evergreen beauties such as Madhuri Dixit and Sridevi. Stars such as Hrithik Roshan and Arjun Kapoor have adorned her exquisite collections for men. Anita Dongre is also a favourite amongst personalities and public figures internationally including HRH The Duchess of Cambridge, who recently graced an event hosted by The Buckingham Palace to mark India-UK's 70 years of business and cultural partnerships.
 DIVAlicious London marked Anita Dongre's inaugural London showcase. The event showcased Anita Dongre's acclaimed collection "Alchemy" (A Magical Transformation).
Speaking about her participation at DIVAlicious, Anita Dongre said: "London is an exciting city with an eclectic mix of art, architecture, fashion and business. DIVAlicious was a wonderful event to bring designers, buyers and clients on one platform. I enjoyed being back in London to showcase this season's bridal couture."
UK shoppers had the opportunity to see, experience and purchase creations by over 20 established and emerging Indian designers along with accessory brands from Dubai, India and Hong Kong, all inspired by the East and toned for the West. The finest Indian designer apparel was brought to the event courtesy of The Rack – by Kachins, a luxurious multi-designer retail hub part of Kachins Group, the iconic Dubai-based suit makers. The designer collections showcased at the event included Anamika Khanna, Gaurav Gupta, Pankaj & Nidhi, Payal Singhaland Tarun Tahiliani.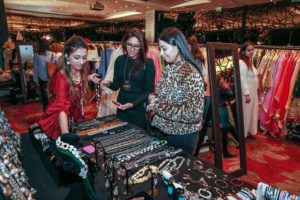 Private banker turned fulltime fashion entrepreneur Vanitaa Bhatia launched DIVAlicious in Dubai in 2011. "We had a resounding weekend in London with a great turn out. With the reception we received, I can immediately claim that we will be back again next year and hope to make it an annual spring affair for the fashion-conscious market that is London.  Our next step is Nairobi, Kenya!"
 DIVAlicious London's partner is the globally renowned, multi-award-winning business and communications consultancy Sterling Media. Established in 1995, the company has a specialist luxury-lifestyle division, providing strategic consultancy to a range of clients including Harrods, Ralph & Russo, Aston Martin, Raghavendra Rathore of Jodhpur to The East India Company. Natasha Mudhar, CEO of Sterling Group said: "We have had an incredible response to the event, highlighting the love of Indian fashion, design and creativity internationally. As 2017 celebrates 70 years of India and UK's cultural partnership, we were delighted to welcome the epitome of international fashion, culture and film Sonam Kapoor to the UK."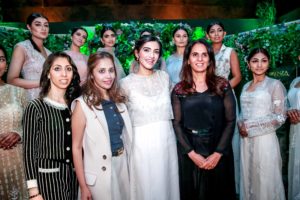 Speaking about their association with DIVAlicious London, Neetu Ramchandani of The Rack – by Kachins said: "The Rack – by Kachins was launched to fill a void in the U.A.E fashion retail landscape given the non-availability of Indian designer brands in the region. Both DIVAlicous' and our vision is in complete sync presenting a natural synergy as we strive to fulfill the demand for South Asian fashion across international shores.  We were delighted to have the opportunity to bring to London a preview of our A List designer collections and to showcasing our brand to the UK shopper at DIVAlicious London, without having the need for them to travel to us in the U.A.E."