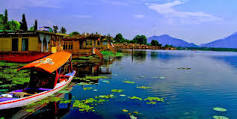 The Birmingham City Council on Wednesday denied permission to several UK-based Kashmiri groups for organising a rally to commemorate the death anniversary of slain Hizbul Mujhahideen commander Burhan Wani.  The rally was supposed to mark 'Burhan Wani Day', but it was cancelled after the Indian government lodged protest with its British counterpart. Burhan Wani was gunned down in an encounter with the Rashtriya Rifles on July 8, 2016.
India's deputy high commissioner, Dinesh Patnaik, sent a "note verbale" on Monday to the Foreign Office including details of Wani's crimes and propagation of violence in the Valley.
"A rally on Kashmir is a different matter but to glorify and eulogise a terrorist is unacceptable. The UK itself has suffered at the hands of terrorism in the last few months and lives have been overturned as a result. How can law and order allow such a glorification of terrorists and propagation of violence," wrote Patnaik.
The senior diplomat also questioned whether the UK government would allow the same UK-based protest groups, which have their origins in Pakistan, to organise a rally in favour of Pakistani-origin Khuram Butt and other terrorists involved in last month's London Bridge attack that left eight dead.
"If the same people celebrating Wani were to plan a similar glorification of Khuram Butt and the other London Bridge terrorists, would this country's law and order allow that to go ahead as well," he questioned, adding that the joint statement issued during British Prime Minister Theresa May's visit to India had called for joint action against all forms of terrorism.
Groups such as Tehreek-e-Kashmir Europe are believed to be involved in the organisation of the rally. The same groups were caught on camera waving images of Wani and "We Want Freedom" posters during the India vs Pakistan Champions Trophy match at Edgbaston Cricket Ground in Birmingham on June 4.
The Indian high commissioner to the UK, Y K Sinha, had spoken out last week against what he described as "anti-India activity" on British soil. "The way the UK permits anti-India activity on its soil, in Delhi people are quite perturbed about that. We are also a democratic society but we do not discuss issues that affect our friends and allies," he had said during the launch of a new book on India-UK ties titled 'Winning Partnership'.
The Indian community in Birmingham also mobilised to lobby local councillors and MPs to register their protest against the proposed rally.
Source:Indian Express