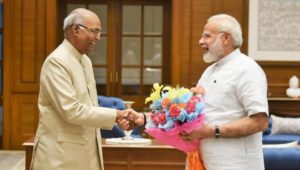 Prime Minister Narendra Modi nominated Bihar governor Ram Nath Kovind as the National Democratic Alliance's presidential candidate on Monday, putting to rest speculations about BJP veterans Lal Krishna Advani and Murli Manohar Joshi being considered for the top post.
The names of external affairs minister Sushma Swaraj, social justice minister Thawar Chand Gehlot and Lok Sabha speaker Sumitra Mahajan were also being bandied about in this regard.
BJP chief Amit Shah said the party examined a long list of candidates before zeroing in on Kovind. Here are the four reasons that turned the balance in the Dalit leader's favour.
By picking Kovind, BJP and the RSS leaders have given a fresh push to their strategy of integrating Dalits into Hindu society. The BJP will highlight the fact that it chose a lower caste leader for the country's top post at a time when it has absolute majority in the Lok Sabha, a position that allows it to put up a President of its choice.
BJP sources said nominating a Dalit for the President's post also makes it difficult for Advani and Murli Manohar Joshi to further their own interests in this respect. The two veterans, who were potential candidates for the position of President and vice-president after missing the ministerial bus in 2014, have been marginalized in the new party setup.
While the NDA's combined strength of MPs and MLAs is closer to the majority mark in the electoral college meant for electing the president, the BJP wants to go one step further and take the fizz out of the Opposition's newfound unity. Propping a Dalit for the presidential post helps it achieve this purpose. While the Telangana Rashtra Samithi, YSR Congress and the Biju Janata Dal have already announced their support for Kovind, leaders such as Mayawati and Nitish Kumar have also come under pressure to back him.
India's most populous state is crucial in the BJP's scheme of things. It gave 73 out of 80 Lok Sabha seats to the BJP in 2014, and propped a saffron government with two-thirds majority in the 2017 assembly polls. Kovind is a Dalit from Uttar Pradesh, and if elected, he will be the second state leader after Modi (who is the Varanasi MP) to land a top post in the government. He will also become the first leader from Uttar Pradesh to be appointed President.