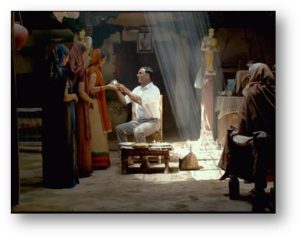 Bollywood megastar and the most bankable actor, Akshay Kumar, recently released a curtain raiser for his upcoming film Pad Man across social media.All set to release on 9th February, Pad Man aims to raise the curtain on all myths, taboos and beliefs around periods and menstrual hygiene, which have held women and girls back from empowerment for centuries.
The curtain raiser film gives us some of the exciting insights into what Pad Man has in store for us. It opens with an awestruck Sonam Kapoor trying to come to terms with the fact that how can a man be so obsessed with 'chumming,' as menstruation is commonly called.
 We are then taken to a festive scene in Akshay Kumar's village where a celebration takes place in honour of a young girl getting her first period.  
 The video also gives us a glimpse of Akshay Kumar's character Lakshmikanth at the United Nations who draws a comparison between pads used to protect the legs of cricketers and sanitary pads used by women, strongly making a point that there is a need for menstrual hygiene.Sharing the video AKshay Kumar said, "#PadManCurtainRaiser from all the myths, taboos and beliefs. Here's to unveiling the future with innovations together!"
Pad Man releases in cinemas worldwide on the 9th February 2018 to inspire all the cape-less heroes amongst us, through SPE Films, India.