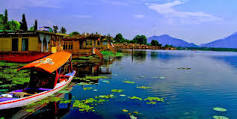 An NCC woman cadet from South Kashmir was trolled on Facebook for her message to the youth of Jammu and Kashmir, where she urged them to shun stone-pelting and azadi campaigns and to enjoy the "real freedom" in India.
The video of her sound bite, taken by a little-known news portal News Review, went viral on Facebook. Later, News Review deleted the post but reproduced it without showing her face on Monday evening.
The woman, a student of the government women's college in Anantnag, said she was the only woman representing her college at the camp as many others were discouraged by their parents from doing so because of the troubled situation in south Kashmir.
In her interview, she had said:
I want to tell the youth that the real azadi (freedom) is here. If you want azadi, it is here. Please don't go towards bad things like protests, stone-pelting or getting involved in sloganeering for azaadi. Azaadi is nothing. If you want azaadi, it is here.
The response was vicious.
The trolls, mostly men, commented using foul, gendered abuses. A few others abused her and her parents for 'letting down Kashmir's azaadi movement'.
Over 100 Kashmiri cadets including a good number of women are taking part in the NCC camp for selection to the Jammu and Kashmir Directorate Thal Sainik team which will take part in national level competitions in Delhi shortly.
In January this year, Kashmiri teenager Zaira Wasim,  whose performance as the young Geeta Phogat in Dangal earned her plaudits, was forced to apologise publicly after her pictures with CM Mehbooba Mufti went viral on social media, and the Jammu & Kashmir chief minister described her as a "Kashmiri role model".