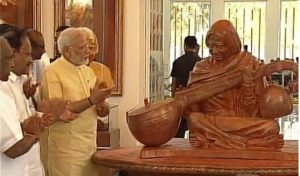 To commemorate the 2nd death anniversary of India's most loved 'Missile Man' – APJ Abdul Kalam, Prime Minister Narendra Modi inaugurated Abdul Kalam Memorial in Rameshwaram in Tamil Nadu. About 50 million students from across the country were set to sing the 'Kalam anthem' to honour Abdul Kalam.
PM Modi hoisted the tricolour at the Abdul Kalam Memorial.
Later he, met the family members of Former President Abdul Kalam. This is part of a series of events to celebrate Kalam's achievements. Prime Minister proceeded ahead for the public meeting in Mandapam.
While inaugurating Abdul Kalam Memorial, PM Modi unveiled the statue of Dr APJ Abdul Kalam and paid tribute to him at the memorial in Rameswaram.
PM Modi also flagged off 'Kalam Sandesh Vahini', an exhibition bus which will travel across various states. This bus will reach Rashtrapati Bhavan on 15 October to commemorate the birth anniversary of APJ Abdul Kalam.
CM Palaniswamy, Governor Vidyasagar Rao and other leaders were also present. M Venkaiah Naidu took the stage to speak on the occasion of the inauguration of Abdul Kalam Memorial followed by CM Palaniswamy.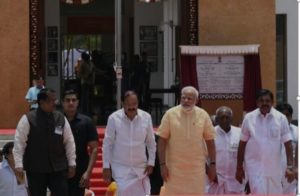 While speaking at the Memorial inauguration, M Venkaiah Naidu said that "Dr.Kalam became people's President of India, driven by the single minded devotion and passion of doing something for the country."
PM Modi also released a synopsis of the Green Rameswaram Project. Prime Minister Modi addressing the people after inaugurating the Abdul Kalam Memorial, said " Rameswaram has a vital place in our history and it is also known as a place so closely associated with Dr. Kalam. It was delighted to see the memorial; Dr. Abdul Kalam always reflected the simplicity, depth and calmness of Rameswaram."