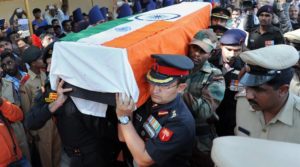 WASHINGTON: The US on Wednesday listed Pakistan among the nations and regions providing "safe havens" to terrorists, saying terror groups like the LeT and JeM continued to operate, train, organise and fundraise inside the country in 2016.
In its annual 'Country Report on Terrorism', as mandated by the Congress, the State Department said that Pakistani military and security forces undertook operations against groups that conducted attacks within Pakistan such as Tehrik-e-Taliban Pakistan.
"Pakistan did not take substantial action against the Afghan Taliban or Haqqani, or substantially limit their ability to threaten US interests in Afghanistan, although Pakistan supported efforts to bring both groups into an Afghan-led peace process," the State Department said.
India, it said continued to experience attacks, "including by Maoist insurgents and Pakistan-based terrorists".
In January, India experienced a terrorist attack against an Indian military facility in Pathankot, Punjab, which was blamed by authorities on JeM. Over the course of 2016, the Government of India sought to deepen counter terrorism cooperation and information sharing with the United States," the State Department said.
The Indian government continued to closely monitor the domestic threat from transnational terrorist groups like ISIS and al-Qaida in the Indian Subcontinent (AQIS), which made threats against India in their terrorist propaganda. A number of individuals were arrested for ISIS-affiliated recruitment and attack plotting within India, the report said.
In a separate chapter, the State Department listed Pakistan as one of the safe havens of terrorism.
The State Department said that numerous terrorist groups, including the Haqqani Network (HQN), the LeT and JeM continued to operate from Pakistani soil in 2016.
n its report to the Congress, the State Department said in 2016, India and the United States pledged to strengthen cooperation against terrorist threats from groups including al-Qaida, the ISIS, JeM, LeT and D-Company (Dawood Ibrahim's group), including through greater collaboration on designations at the UN.