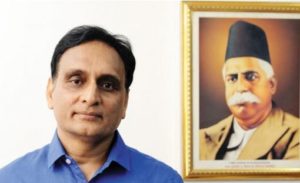 The Kolkata Police have registered an FIR against RSS vicharak (thinker) and Delhi University professor Rakesh Sinha for allegedly fanning communal hatred through social media posts on violence that rocked West Bengal's Basirhat.
Sinha, who often articulates the viewpoint of the Rashtriya Swayamsewak Singh, the ideological parent of the BJP, in television debates, has been accused of promoting communal disharmony and attempting to hurt a community's religious feelings.
A teacher of political science, Sinha has denied posting such material and said it was a repressive tactic to silence him.
"I posted a picture with my mother offering prayers at the Mahakal temple in Ujjain on July 9, another of receiving an award from the President and one of RSS chief Mohan Bhagwat releasing a book on Prime Minister. What is provocative about these?" Sinha said while speaking to Hindustan Times on Monday.
Sinha has been booked under various non-bailable sections of the IPC by Kolkata Police. While Sinha termed this a 'strong-arm tactic' to silence his criticism of the Mamata Banerjee regime over communal appeasement and consequent violence in Bashirhat, RSS-affiliated legal body Legal Rights Observatory (LRO) has called for an NIA probe into the role of TMC MLAs in the communal flare-up.
The case, filed on July 12 on a complaint lodged a couple of days prior to that, claims that Sinha tried to incite communal hatred and thus tried to spark communal conflagration in the already disturbed state through his social media posts. A particular post has also been made the basis of the complaint. In a Twitter post, Sinha had posted a picture with his mother offering prayers at the Mahakal Temple in Ujjain on July 9. According to Kolkata lawyer Brajesh Jha, who is representing Sinha, one Manoj Kumar Singh filed the complaint against him, calling his post "provocative" that can lead to communal tension and riots.
The FIR was registered on the complaint of Manoj Kumar Singh, a shop owner in Kolkata.
Various inputs