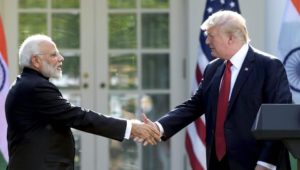 Indian Prime Minister Modi became the first foreign leader to enjoy a White House dinner since Trump came to power. and the two leaders discussed a range of issues.
India and the US asked Pakistan to ensure its territory was not used for cross-border terror strikes and to "expeditiously" bring to justice the perpetrators of the 26/11 Mumbai and Pathankot attacks.
President Trump and Prime Minister Modi also vowed to strengthen efforts to fight terrorism and eliminate safe havens for terrorists. "Eliminating terrorism is among the topmost priorities for us," Modi told reporters in his joint address with Trump at the White House.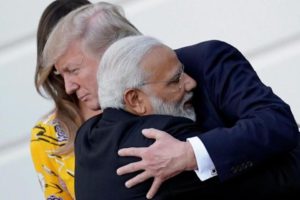 Trump said they were determined to destroy terrorist organisations and the radical ideology that drove them. "We will destroy radical Islamic terrorism," he said.
The US has cleared the sale of predator Guardian drones to India, as the two sides pledged to deepen defence and security cooperation.
"Reflecting the partnership, the US has offered for India's consideration the sale of Sea Guardian Unmanned Aerial Systems, which would enhance India's capabilities and promote shared security interests," said a joint statement released after Modi-Trump meeting.
These unarmed drones will allow New Delhi to keep a closer watch over the strategically important Indian Ocean.
Trump thanked India for purchasing US military equipment. He told Modi "there's nobody makes military equipment like we make military equipment. Nobody even close."
Trump said he was keen to work with Modi on creating a "fair and reciprocal" trade relationship between the two nations and called for the removal of "barriers" for the export of US goods into Indian markets. "It is important that that we reduce our trade deficit with your country," he said.
The US was looking forward to increasing energy exports and major long- term contracts for the purchase of natural gas were being negotiated. "…and we will sign them. Trying to get the price up a little bit," Trump said.
Both leaders expressed concern over rising instability in Afghanistan and agreed to strengthen coordination for ensuring peace in the war-torn country.
Trump said he wanted to "thank the Indian people" for their contribution in helping development in Afghanistan.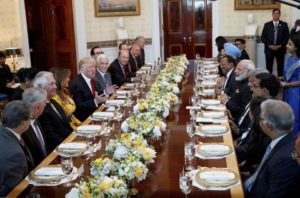 Modi, in turn, said India "would maintain close consultation and communication with the US" to achieve the joint goal of peace and stability.
Describing both countries as "global engines of growth", Modi said trade, commerce and investment were key areas of mutual co-operation. "Technology, innovation and knowledge economy are also areas we are actively looking at," he said.
The two leaders heaped praise on each other as they underlined the close ties between their countries. "During my campaign, I pledged that if elected, India would have a true friend in the White House. And that is now exactly what you have, a true friend," Trump said at the White House's Rose Garden.