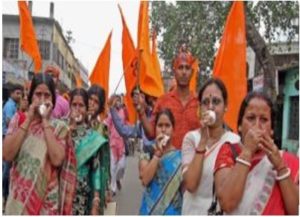 In Malda, a Muslim-majority district in West Bengal, a rally of swords and trishuls, saffron bandanas and shouts of 'Jai Shri Ram' marked Ram Navami. There hadn't been anything like it in living memory.
"Our organisation has got a boost in the Hindu-dominated parts of Malda over the past couple of years, though we're still facing difficulty getting started in the Muslim-dominated areas," says Tarun Kumar Pandit, spokesperson for the north Bengal chapter of the RSS.
He's standing in a school ground run by the RSS-affiliated Vidya Bharati where 115 RSS workers from across north Bengal have gathered for a 20-day camp complete with discussions on nation-building and field exercise in khaki shorts, with lathis in hand.
Among the participants is a local Class 11 student who says he joined because he was 'alarmed' by 'increasing Muslim aggression'.
He's referring to an incident where a mob set the Kaliachak police station on fire in January 2016. Investigations later revealed that the 'riot' had been a backlash by a group of criminal poppy cultivators. But the truth came too late for some. The Kaliachak incident got portrayed, even beyond the borders of Malda, as a 'communal riot'.
Where did that version of events come from? Primarily the small but highly effective social media cells of the saffron brigade.
The tone of their posts is dictated from further up in the power pyramid.
The RSS's general secretary for south Bengal led the way in this case, Jishnu Basu, with an open letter to journalists that questioned the mainstream media's 'silence on the incident' and claimed a neighbouring Hindu village was attacked.
"One incident after another, in the districts of Malda, Murshidabad, Burdwan, Nadia, North and South 24-Parganas, over the past few years, are indicating impending peril. Isn't West Bengal turning into West Bangladesh?" the letter went on to state.
"Not only are Hindus slightly fewer in number than Muslims, and hence feel insecure, these two districts are also among worst-affected by infiltration from Bangladesh. They offer us the best chances for creating a breakthrough in north Bengal," says an RSS pracharak, requesting anonymity.
Cause and effect
Capitalising on what they call chief minister Mamata Banerjee's 'overt Muslim appeasement' (monthly government stipends for imams and muezzin, for instance), the Hindutva brigade is running an aggressive campaign on communal lines. It seems to be working.
"Mamata Banerjee has turned West Bengal into a breeding ground of Muslim fundamentalists and has made the Hindus second-class citizens," says Sayantan Dutta, a college student who recently joined the Bajrang Dal and participated in a massive Ram Navami rally in Suri town.
The Dal is part of the Sangh Parivar, literally, family of orgnisations, the term used for the group of parties and associations that are either part of the RSS (Rashtriya Swayamsevak Sangh) or draw upon the founding ideology of the right-wing Hindu body.
"The media keeps mum when riots take place. We would not have known anything about riots in Kaliachak, Deganga, Dhulagori and Kanchrapara had there not been the social media," says Bibek Goswami, 28, a primary school teacher from South 24 Parganas. He joined the RSS a year ago.
SANGH'S EXPANSION IN WEST BENGAL
The Sangh Parivar (literally, family of organisations) is the term for the group of parties and associations that are either part of or draw upon the founding ideology of the  Hindu body, the Rashtriya Swayamsevak Sangh (RSS)
In West Bengal, the Bharatiya Janata Party has gone from being a marginal force in 2011 to a strong challenger to current chief minister Mamata Banerjee's Trinamool Congress
Erosion in the Left and Congress support bases are helping the BJP get non-Trinamool Congress voters into their fold
One of the means of expanding their base is organising large religious processions. The Ganesh festival, not traditionally celebrated in the state, is now a big deal too, says political analyst Subroto Moitra.
 Be it Malda, Hooghly, Howrah or Birbhum, it is mostly young boys in their teens and twenties joining the saffron camp.
"For a long time, the destructive Naxalite ideology and Left ideology in general drew the students and youths of Bengal in their hundreds and thousands. But now they are coming to us, after realising that only the Sangh can lead meaningful and constructive social changes," says Biplab Roy, spokesperson for the RSS in south Bengal.
Political analyst Amal Mukhopadhyay, however, feels Hindutva is not the sole appeal for the people joining sangh. "Many are coming to them thinking it is only the BJP [Bharatiya Janata Party], by virtue of being in power at the Centre, which can take on the Trinamool head-on," he says.
Inside the web
The BJP in West Bengal began making early gains in 2013-14, mostly in areas dominated by Hindi-speaking people and infiltration-prone areas bordering Bangladesh.
In 2013, the RSS's south Bengal chapter introduced weekly sessions called "IT milan', exclusively for swayamsevaks in the IT sector, complete with surya namashkar, yoga for back pain, and discussions on current affairs.
Online, the Hindu Samhati, VHP, Bajrang Dal and RSS credit their volunteers with their success.
"We do have dedicated teams that create contents for social media but the onus on circulating them through Facebook, WhatsApp and Tweeter lies on every volunteer," said Sourish Mukherjee, VHP's media in-charge for Bengal.
"We are ahead of the Left in social media campaign because of our dedication. We follow what we preach, while the Left practices hypocrisy," Amanish Iyer, RSS's joint secretary for Hooghly district, told HT.
The state unit of the BJP has undergone a transformation too. Senior RSS pracharak Dilip Ghosh was elevated to BJP state unit chief in 2015. In Hooghly, former RSS district chief Dipanjan Guha is now head of the district BJP unit.
"Corruption and bad governance are fleeting issues. The only permanent issue is the security of the Hindus and we have our focus set on our core agenda," Ghosh says.
While the RSS had 580 shakhas in West Bengal in 2011, they now have more than 1,500. In Hooghly alone, the number of daily shakhas has doubled, from 25 in 2014 to 50.
During a visit to its state office in north Kolkata on a weekday evening, only a few caretakers are present. "Leaders are spending more time of the field and less in the office," says one.
Source:HT