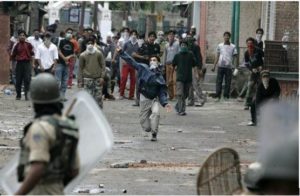 Kashmir CRPF Jawans attacked: Enough of restraint, time for some stern action
Author: Saksham Mishra
At times, there are allegations that the CRPF intentionally uses pellet guns to injure people in Kashmir. Attempts are made to paint a picture as if the Army personnel are using brute force to crush the Kashmiri protests. If there exists anyone whose opinion coincides with the aforesaid, a reality check is needed big time. In a video that has emerged days after the violence-hit Srinagar by-election, a Central Reserve Police Force or CRPF soldier shows remarkable restraint as he is heckled, slapped and kicked by a mob. Have a look:
This video, that has become viral is highly frustrating and upsetting for any nationalist citizen of Bharat. The video clearly shows that jawans are being harassed by few debauched Kashmiri youth but they are  showing exemplary patience and not retaliating. The kind of restraint they are observing, is really commendable.
The video shows a group of personnel seemingly returning from a polling station after the Srinagar Lok Sabha bypoll held on Sunday. The CRPF jawans were hit badly and even assaulted by a mob that walked with them and kept beating them while raising slogans. They are seen armed with rifles but they didn't use it or retaliate with any force.
There are media reports quoting a personnel who said that he and his comrades were carrying electronic voting machines from the polling booth and they wanted to keep the EVMs safe because they gave importance to the security of the EVMs to uphold democracy.
After this video became viral, an Army man wrote an open letter to the Kashmiri youth who are led astray by the call for jihad masked as azaadi.
Such videos will render the blood boiling of any patriotic citizen of Bharat; and still there remain politicians and pseudo-intellectuals who turn a blind eye towards the restraint and sincerity shown by our jawans. One such politician, NCP leader Farooq Abdullah, in his poisonous election rally said,
"Kashmiri youth is pelting stones for the nation. The young men throwing stones are sacrificing their lives for Kashmir resolution.I want to tell the Prime Minister that tourism is our life, but a youth pelting stones is not bothered about tourism. He is ready to starve to death but will continue to throw stones for his nation. This has to be understood," Abdullah said, countering Prime Minister Narendra Modi's recent remark wherein he had asked the Kashmiri youth to choose tourism over terrorism."
After facing a severe loss in the 2014 Lok Sabha elections, Abdullah had almost disappeared from the political canvass but as soon as the by-elections for Srinagar and Anantnag Lok Sabha seats to be held on the 9th and 12th of April respectively were announced, Abdullah reappeared.
He further said, "Kashmiri youth are picking up guns for freedom of Kashmir and not for becoming legislators. The younger generation of Kashmir isn't afraid of death and is ready to give their lives for the cause. We can't reach any solution on Kashmir until Pakistan is taken onboard; there are internal as well as external dimensions to the Kashmir issue which need to be addressed."
I fail to understand that why do such people need to remain in Bharat any longer, and why no legal action is taken against them for making statements with an attempt to disrupt the stability of Bharat.
The incident has evoked sharp criticism from various quarters. Earlier in the day, cricketers Gautam Gambhir, Mohammad Kaif and Virender Sehwag came out in support of CRPF jawans. All three of these cricketers expressed their anger on social media.
Cricketer Gautam Gambhir lashed out at all those who raise azaadi slogans, who are as per him "anti-Indians", after seeing the videos of CRPF jawans being assaulted by mobs in Kashmir. After sharing an article on the very issue, Gambhir made two consecutive tweets in which he slammed the mobs manhandling the jawans.
Cricket Mohammad Kaif too, took to twitter to express his anger.
Cricketer Virendra Sehwag also took a stand on Twitter regarding the same videos. Sharing a copy of one of the videos, Sehwag said, "This is Unacceptable! Cant do this to our CRPF jawaans. This rot has to stop. Badtameezi ki hadd hai."
The CRPF, meanwhile, said that the video clip showing some youths beating its jawans during bypoll to the Srinagar parliamentary constituency on April 9 was "authentic" and that it has started investigation and will "strongly" deal with the issue. The CRPF said that it will deal strongly with the assaulters.
"During investigation, we found that the video is authentic. We have identified the company of the force involved and the location of the incident," Inspector General of CRPF Ravideep Singh Sahi told PTI.
Sahi said the incident happened in Kralpora area in the Chadoora assembly segment in central Kashmir's Budgam district. "We have gathered all the facts and officially intimated the Chadoora police station. We will also register an FIR," he said. The officer said the force would follow the case in a "strong way". "We will legally deal with those who did that to our jawans. We will follow it up in a strong way," he said, refusing to share further details.
Jammu and Kashmir Police on Thursday registered an FIR on a complaint filed by the CRPF. "Police have registered an FIR on our complaint in Jammu and Kashmir. Law will take its course," acting Director General of CRPF Sudeep Lakhtakia told PTI in New Delhi.

Taking strong exception to the assault on CRPF jawans by Kashmiri locals, the government on Thursday promised stern action. Speaking to media over the issue, Home Minister Rajnath Singh said he had a dicussion with DG CRPF on the issue and "we are looking into the video".
Deputy Chief Minister of Jammu Kashmir Nirmal Singh condemned the incident and praised the jawans for showing patience. "There will be stern action against perpetrators. It's noteworthy how jawans were patient. Our security forces are disciplined. Such incidents aren't acceptable at all, action will be taken," said Singh.
But time for words is over. It is time to act, and act in a manner that a clear message goes to all and sundry – our jawans are not cannon fodder or punching bags; they should have full freedom to do their job with dignity.
Courtesy:Hindu Post