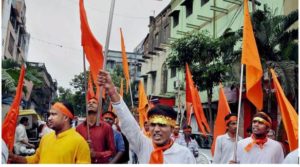 Ram Navami was celebrated with fervour in West Bengal, Rashtriya Swayamsevak Sangh (RSS)- and affiliated organisations brought out numerous rallies with people brandishing swords and tridents, youth as well as children were seen participating in the celebrations. Dilip Ghosh, West Bengal BJP president and senior RSS member, also carried sword in the procession in West Midnapore district in the state. Other than in the capital, processions were organised VIshwa Hindu Parishad, Hindu Jagran Manch and others, in Howrah, Birbhum, Nadia, North Dinajpur, West Midnapore, and East Midnapore.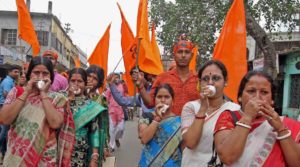 Tableaus decorated with saffron flags, carrying idols of Ram Darbar, as well as participants dressed as Ram, Laxman, Sita and Hanuman were taken out from 22 locations in Kolkata and seen across the city.
"Mandir wahi banayenge" slogans were also raised at these rallies.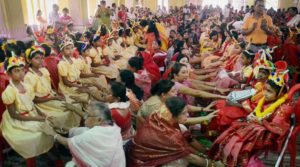 State BJP president Ghosh earlier supported the carrying of weapons during rallies, saying "We fully support such a programme to celebrate Ram Navami. It will help people to unite against the anti-national forces and vote-bank politics," adding that there would be more than 200 camps with yatras, public meetings and processions held across West Bengal. "Big processions and meetings will be held in North Dinajpur, Burdwan, Birbhum, Nadia, and West Midnapore.
The selection of the locations was seen to be significant as North Dinajpur borders Bihar and Bangladesh. Bidyut Mukherjee, the organisational secretary of RSS, West Bengal and Andaman and Nicobar Islands, said that festivals such as Durga Puja and Saraswati Puja were not allowed in some parts of the state and the time had come for Hindus to assert themselves.