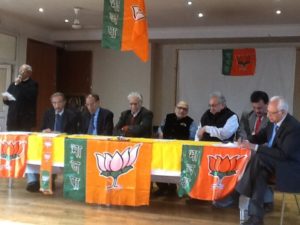 The OFBJP East London Branch celebrated the electoral success of the BJP in Uttar-Pradesh and Uttarakhand and a fair performance in Goa and Manipur at The Shivaji Hall (VHP Ilford) on Sunday the 26th March 2017.
Dr. Madhukar Ambekar, as the chief guest of the function, Lalubhai Parekh, the National President, Darshan Grewal, Vice president and Shashi Patel, the Treasurer, graced the occasion.
The function started at around 15:30 hours with lighting of the sacred lamp (with a mental prayer to shed off the darkness of ignorance), followed by singing of Vande Mataram.
Shashi Patel, the Treasurer, offered an obituary for Dr K P Hardas, who passed away in Nagpur, India in February this year. He was the first UK president of the OFBJP (UK) and worked tirelessly for a good number of years to make the organisation a success. A minute's silence was observed by all present in his memory.
B N Bhanot, Vice President OFBJP (UK), introduced the guests and praised Mr Modi for convincing the people that U P will develop only under BJP as other parties have failed the people in the past.  
Dr Ambekar spoke about the long journey and hardships the party had to cross over, in a very picturesque manner that everybody was spell bound. In the words of one of the audience, he spoke about 'past, present and future' of the party. He enumerated the reasons of our success in the Uttar Pradesh, and praised the manner, personality, steadfastness, farsightedness, planning, multitude of talents, eloquence of speech and gait etc. of our beloved leader Indian PM Narendra bhai Modi and the hard work, of Amit bhai Shah.
Mr Lalubhai Parekh, President spoke briefly and showed his unhappiness at the un-parliamentary language spoken by some opposition leaders against the Prime Minister during the elections.
Mr Darshan Grewal, Vice President, and Mrs Laxmi Kaul spoke of the horrible conditions in Jammu & Kashmir and the terrible state of affairs met by the Kashmiri Pundits, who were ousted from their own homes and completely let down and ignored by successive governments. She stressed the importance of awareness regarding Jammu & Kashmir.
'Mastak nahin jhukega' a poem by Shri Atal Bihari Vajpayee, on situation in Kashmir and Aao Baacho Tumein Dikhayen" a Bolywood patriotic song enthralled the audience.
Mr Sunil Paul from West Bengal described the horrible state Hindus are living in some parts of West Bengal and how the suffering caused due to atrocities at the hands of some non-Hindu population is being ignored by the state government.
Dr B. Bassu presented his book on Swami Vivekanand.
The programme ended with National Anthem of India.