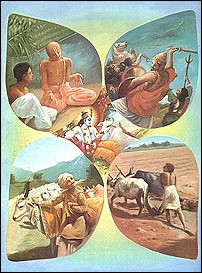 The All Party Parliament Group (APPG) Secretariat for British Hindus announces that the Government has launched its consultation on caste in Great Britain and Equality Law. The following link contains the full consultation paper and provides a variety of different methods you can use to respond to it: online, by post or by email.
https://www.gov.uk/government/consultations/caste-in-great-britain-and-equality-law-a-public-consulation
The consultation document invites views from all those potentially affected by a legal prohibition against caste discrimination, on whether legal protection against this form of discrimination is best ensured by developing case-law under the Equality Act or by making caste explicitly an aspect of race in the Act.
The APPG Secretariat for British Hindus encourages members of the community to make submissions to this consultation. The consultation will close at 11:45pm on Tuesday18th July 2017.
The APPG for British Hindus wholly condemns discrimination of any type on any grounds and feels the British Government has a duty to protect those who have suffered as a result of any kind of discrimination. However, the position of the Secretariat is that caste should not be explicitly made an aspect of race in the Equality Act for the following key reasons:
The term 'caste' is widely misunderstood and has no agreed social or legal definition and indeed is misleadingly primarily attributed to Hindu and Indian culture.
Arriving at a commonly understood definition by making 'caste' an aspect of the protected characteristic 'race', namely 'ethic origin', further misconstrues the understanding of caste. It will result in certain ethno-religious communities becoming unintended targets of the legislation.
No commonly accepted body of evidence shows that caste discrimination exists in the public sphere that is covered by the scope of this legislation; namely employment, education and the provision of goods and services.
The unintended effects of 'caste consciousness'- bringing consideration to an outdated concept that has no place in modern British Society, not least on UK Statute- may result in undesirable socio-political consequences for future generations and can only be seen as divisive.
Case law has already shown that legislation is not required and, rather, education is needed to explain Hinduism to those in legislature, parliament, courts and even the public so that the misnomer of caste is not used to discriminate against people or divide a community.
For further information or to provide feedback on our response please contact the Secretariat Officers at the following:
Jayesh Jotangia- email@jayeshjotangia.com
Mayuri Parmar- mayuri.parmar@parmaradvisory.co.uk