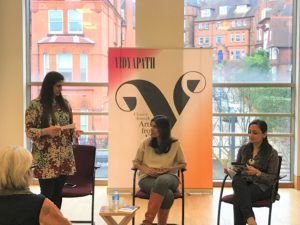 Vidyapath was proud to host Pratishtha Singh, the author of Voter Mata Ki Jai!, for the first Kalam (an initiative of Prabha Khaitan Foundation, India) London event on Sunday, 19th March 2017.
Organised at the O2 Centre, the conversation was moderated by Vidyapath founders, Shivani Sethia and Pooja Maru, and revolved around Ms Singh's experiences rural Bihar during the 2015 state elections.
Ms Singh highlighted that her book, while being based around the political event of elections, is more focused around the culture and society in rural Bihar. Talking about her conversations with women in rural Bihar, Ms Singh noted that in her experience, she had found that rural women tended to be more emancipated and feminist than urban women, and that they are more exposed to political talk around them.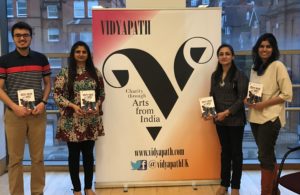 When the discussion turned to prospects for female authors in India, Ms Singh was quick to point out that Indian female authors are getting a lot of positive attention, not just within India, but across the world, and that this trend is set to continue. She also mentioned that to further promote writing in India in general, it was important that more was done by the larger publishing houses to increase their capacity to read manuscripts and provide feedback to budding authors.
The discussion was followed by an invitation for the audience to participate in the debate through a Q&A session.
The cultural legacy of the subcontinent is impressive and profound. From Carnatic to Sufi music, miniature paintings to the carvings of the temples of Ajanta and the elegant literary tradition told through dozens of languages. Vidyapath is a charitable organisation dedicated to recounting this legacy.
Our mission is to build an established platform to promote South Asian art and its proponents in the United Kingdom for the benefit of a collection of small and medium charities in India. We hope to draw together a dedicated community of cultural enthusiasts through a series of curated events.
Pratishtha Singh is a lecturer of Italian language and literature in the Delhi University. She is an author and a poet, and is in the process of finishing her doctoral thesis on the representation of Mussolini in Contemporary Italian literature. She has been a student and scholar of cinema in Italy and India, and has written the content for numerous Italian documentaries on India which have aired on Italian Channel RAI. She has also taught Hindi at the Venice University Ca' Foscari.
Ms Singh has a keen interest in politics and has done an annual internship at the Indian Parliament, the Lok Sabha in 2010. She wrote and submitted a thesis in the Lok Sabha Secretariat on the Privileges of the Members of Parliament in India. She has worked extensively in Rajasthan and with women with the Rajiv Gandhi Foundation. In 2014, she managed the media and the women campaign for Mohammad Azharuddin from Sawai Madhopur. In 2015, she travelled alone across Bihar during the assembly elections to talk to the women voters. Voter Mata Ki Jai! is the story of her travel experiences and conversations.