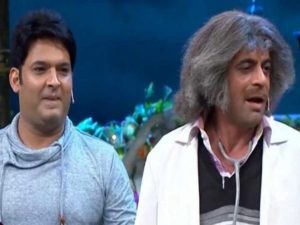 The fight fight betweek Kapil Sharma & Sunil Grover has left everyone shocked as no one can believe that their favourite comedian Kapil can do something like this. While the initial reports said that the host of Kapil Sharma Show abused and manhandles Sunil, latest information is that Kapil actually hurled shoe at Sunil.
The news reports about the scuffle between both the comedians is getting murkier. A crew member of The Kapil Sharma Show on the condition of anonymity told the Timesofindia.com, Kapil had consumed an entire bottle of alcohol and he got furious when he got to know that the team was having food before him while he was still drinking. This made him angry and he started abusing everyone. When Sunil tried to control him and also requested to not use foul language as ladies were around, he lost his cool and hit Sunil with a shoe. Not only Sunil other team members including a female member of the team got hit by Kapil in the bargain. He didn't stop here, he started abusing everyone in Punjabi. He even told them he is the only mad (Man) in the team and they dress up as women to earn money, hinting at Sunil and Ali. He also commented on how Sunil had left the show, but had to return after his show Mad In India flopped.
The cabin crew had to intervene and warn him. However, Kapil continued with his rant."While Kapil is trying hard to bring Sunil, Chandan and Ali back onto the show, the three actors seem to be firm about their decision. Kapil has already shot for two episodes without them and has brought Raju Srivastava and Ehsaan Qureshi.
Another source close to the show inform us that since Sunil is in no mood to be back on the show, the channel (Sony Entertainment Television) is spreading fake news about the comedian demanding a fees hike.
Whatever is the case, the next few days will definitely be crucial for Kapil Sharma and team.